Medical Centre Springvale – Local Bulk Billing Doctors
You might be looking for a medical clinic that provides the highest standard of healthcare around Springvale and its surroundings. Keys Medical Centre is the place to be. We are conveniently located near Springvale suburb to provide you with excellent medical services. We operate daily from 9:00 am-9:00 pm.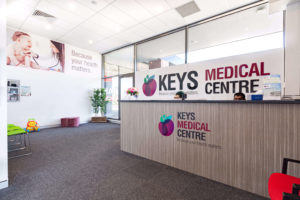 Due to high medical bills incurred in the course of treatment, we provide bulk billing services to customers who have a valid Medicare Card or DVA Card. Therefore all General Practice consultation services are bulk billed. We advise all patients seeking our medical services from Springvale to ensure that their Medicare Cards are up to date.
Our medical clinic has adequate General Practitioners, allied health providers and nurses who treat all medical disorders. They are very welcoming and do a comprehensive examination of our patients with diligence and care. Our motto is being dedicated to solving your wellbeing. To our doctors, customer satisfaction is their main goal. We give our services to all people irrespective of their race, family background or their social class.
At our Medical Centre, we deal with a wide range of General Practice services such as:
Children Health
Antenatal Care
Palliative Care
Occupational Health
Minor Surgical Procedures
Dermatology Assessments
Children and Adults Immunization
Travel Medicine
Mental Health Care
Health Assessment
Aged Care Facility Visit
Our medical clinic has doctors who are specialists in endocrinology, cardiology and general medicine. All these indicate how committed we are to ensure we keep your health at the heart of our center. We haven't heard any cases of misdiagnosis in our clinic because we got trained and accredited professionals. This gives you a reason to look for treatment in our clinic without hesitation.
We are also committed to the prevention of diseases and all forms of injuries. Prevention is emphasized through vaccination. We believe that the best medical services are achieved by building good relationships with our patients and their caretakers. Through this, there is a proper follow up on progress and our doctors get feedback to intervene appropriately. Our vision is to offer good health services to all members of Springvale and nearby areas. For more information on our medical services, contact us at (03) 8759 3807.