Medical Centre Springvale South – Local Bulk Billing Doctors
The Medical Centre That Puts You First Every Time, All the Time
Keys Health Service is proud to have spent so many years protecting and preserving the health of residents from Springvale South. With the advice, support and expertise of our long serving GPs, the people in this part of Victoria have learned the true value of wellbeing.
Your health is irreplaceable, so make sure Keys Health Service is your first stop when things aren't right. At our medical centre, patients have access to bulk billing doctors so it's rare to leave with out of pocket expenses. In the majority of cases, charges come direct from your Medicare insurance.
A Note on Our Bulk Billing Policies
Please remember to bring your Medicare card to the medical clinic every time you visit. If you cannot produce a valid Medicare card on request, you still have unrestricted access to our doctors. However, you may be charged upfront for a consultation and prescriptions.
Getting to Know Keys Health Service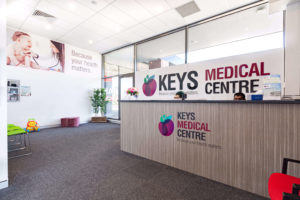 If you're a new patient, you'll be given an appointment with a GP after registration. This is a routine process and it will help you get familiar with practice protocols.
Our medical centre welcomes people of all cultural backgrounds from Springvale South. It is founded on the values of respect, tolerance and equality. We strive to make sure every patient feels safe and comfortable at our clinic. However, if for any reason you'd prefer to be seen by a specific type of doctor, please call to arrange this.
You can reach us on 03 8759 3807. Or email info@keysmedicalcentre.com.au to send a message to our reception team.
Reasons to Expect Excellence from Keys Health Service
Keys Health Service is a clinic that's purpose built to diagnose and treat a wide variety of general health issues. We believe good health and wellbeing depends not just on quality of care but also consistency of care. It's why we work hard to maintain long term relationships with all local Springvale South patients.
In a small number of cases, it is necessary to refer patients to outside specialists. If this is required, you will be notified as early as possible. You'll continue to have contact with your local GP at Keys Health Service and can discuss your treatment with them at any time.
Keys Health Service is an Accredited Training Practice with EV GP Training in the provision of the Australian General Practice Training Programme. We collaborate in partnership with EV GP Training to mentor the next generation of doctors at our clinic. So, if you are a Springvale South resident, remember Keys Medical Centre for all your health concerns.