Medical Centre Noble Park – Local Bulk Billing Doctors
Find What Makes You Healthy At Keys Medical Centre
Keys Medical Centre is a local provider of bulk billing doctors and 'on the spot' health advice near Noble Park area. We're open seven days a week and can offer convenient onsite parking. As our doctors diagnose and treat a wide variety of general health issues, there are no restrictions on registration. If you're a resident of Noble Park, you are eligible.
Here are some of the health services provided by Keys Medical Centre:
Routine Check ups
Immunisations (Includes Travel Jabs)
Women's and Paediatric Health
Skin Cancer Assessments
Weight Loss Support
Mental Health Support
Asthma Care
Antenatal Care and Support
Diabetes Care and Assessments
Eye, Nose and Throat Services
Minor Surgical Procedures
Men's health
palliative care
This is not an exhaustive list of services. If you're unsure, please call our reception team on 03 8759 3807. They can give you advice over the phone or refer you to a GP at our medical centre. If we cannot treat your condition, we'll refer you to a clinic affiliated specialist.
Delivering Affordable Medical Services and Care to Noble Park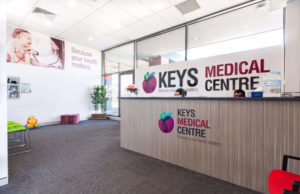 Please note Keys Medical Centre is a bulk billing medical clinic. It means there are no upfront charges for patients who can produce a Medicare card at the point of billing. If you cannot produce your card or do not have a Medicare card, you'll be charged 'on the spot' fees.
We strongly recommend any patients without Medicare contact us for advice. Call 03 8759 3807 to find out if you are entitled to a Medicare card and how to get one.
Our GPs are fluent in a number of languages and come from a variety of backgrounds. They are trained to provide the same superb quality of care to all patients regardless of their language or lifestyle. Some of their specialisations include exercise physiology, mental health care, dietetics and physiotherapy.
Booking an Appointment at Keys Medical Centre
We try our best to accept walk in patients but, please remember, this is a very busy medical centre. To get a guaranteed appointment, book a visit over the phone or on our website. The standard length of appointments is ten minutes. However, if you know you'll need more time with a GP, please request it when booking. So, if you are a resident looking for a premier health service near Noble Park region, Keys Medical Centre has got you covered.