Medical Centre Dingley Village – Local Bulk BIlling Doctors
To manage your health and well-being, it is essential to develop an ongoing relationship with a general practitioner (GP) who you are comfortable with and trust. Your local GP should act as your first point of contact for preventative and non-emergency medical care during clinic hours. You can find such a GP at Keys Medical Centre, a premier health centre near Dingley Village.
At Keys Medical Centre, we are committed to providing high-quality patient care with your health being our priority. Our well trained and experienced GP's, allied health providers, and nurses are patient and take their time to listen to our patient's concerns. We understand that an approach that combines the continuity of healthcare with a team of professionals delivers the best results.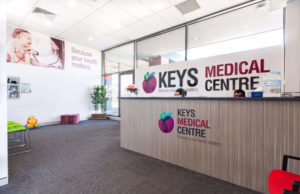 Our medical centre meets stringent professional standards, including GPA Plus Accreditation. We continue striving to reach new heights in general practice benchmarks. Besides, we are a training practice. This means we have doctors pursuing postgraduate studies in general practice. At Keys Medical Centre, we look after the health of people from all across Dingley Village and deal with a wide range of health issues. We also offer health education, provide advice on diet and lifestyle choices and perform simple surgical procedures. Some of the GP and family medicine services we provide include:
Skin checks – These are comprehensive assessments and examinations for asymptomatic patients to check for evidence of cancer.
Health assessments – Our doctors evaluate the health status of our patients by performing physical exams after taking their health histories.
Preventive health – This is the use of recognized and proactive health checks, maintenance and counseling to prevent future illnesses and treatment.
Chronic disease management – We help patients manage chronic ailments by providing them with the medical care, kills, knowledge, and resources they need to deal with the condition every day.
Aged care – Our medical centre offers daily living and nursing care services for older patients who are no longer able to live independently. This care includes nursing home visits as well. Comprised of doctors, nurses and other health care specialists, our palliative care team focuses on providing an extra layer of support for the patients and improving their quality of life.
Children's health – Our bulk billing doctors treat different health conditions that affect children. We also offer immunization programs for children from birth to 10 years of age to protects them from preventable diseases like :
Hepatitis B
Measles, Rubella, Mumps
Tetanus
Diphtheria
Poliomyelitis
For our vaccination program, booking an appointment is not necessary. Our bulk billing doctors in our medical clinic will efficiently immunize your child and advise you on the next immunization dates.
Travel Injections
A holiday should be about having fun carefree. However, most travel destinations are among the most disease-infested. Our travel injections will protect and give you no reason to worry about deadly diseases, yellow fever included. When traveling to various destinations, it is essential to get vaccinations against preventable diseases such as:
Typhoid
Yellow fever
Malaria
Hepatitis A and B
Meningitis
Flu
By visiting the same doctor, detecting, and managing health concerns will be efficient, and it allows the doctor to treat you confidently. We continue to maintain our accreditation, development, and training our staff to ensure that Dingley Village residents get outstanding attention to their health at Keys Medical Centre.