Medical Centre Dandenong North – Local Bulk Billing Doctors
Are you looking for a healthcare facility that offers high-quality care near Dandenong North? If that is the case, then the Keys Medical Centre can meet your needs. In our welcoming medical clinic, our priority is to render quality healthcare to you and your family. With a long reputable history in delivering healthcare services, our doctors, nurses, and other medical staff are passionate about our patient's wellbeing.
Our medical services spread across all angles of primary healthcare from skin checks, pediatrics, Men's health, general health assessments, travel medicine, and chronic disease evaluation and management that include asthma and diabetes.
Our medical centre has a fully equipped waiting room with a large-screen TV, comfortable chairs, children's play area, and magazines. Our highly experienced team of doctors, nurses, and medical support staff will take care of all your healthcare needs. Our GPs have extensive experience and offer assistance in a variety of family health issues such as:
Pap smears
General health checks
Children immunization
Pathology
Family planning
Business Health Service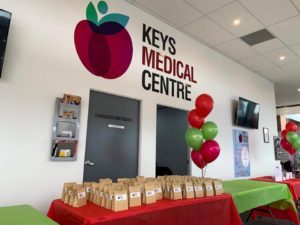 We deliver a prompt and highly coordinated occupational health service to local employers that include workplace injury management and pre-employment medical assessments in our Business health service. If you have sustained injuries at work, and you have an approved worker's compensation claim, our doctors can help you get back to work as quickly as possible. We have competent doctors who treat all chronic and acute medical conditions such as:
Pneumonia and flu vaccination
Children immunization
General health assessments
Urine and blood testing
Diabetes
Nutritional deficiency
Heart disease
High blood pressure
We have committed bulk-billing doctors who offer distinctive vaccination and travel health services to eligible patients with valid Medicare cards from Dandenong North. Our medical staff can prepare management plans to harmonize your treatment and care.
Chronic Disease Management
Chronic diseases are the ailments that have existed for more than six months. Examples include asthma, cancer, diabetes, and stroke. Our highly trained doctors can help patients suffering from chronic ailments to understand their condition and live with it successfully.
Eldercare
As we age, our health deteriorates. We provide health evaluation to our patients who are above 75 years old. A health evaluation renders a structured way to recognize preventable health conditions to improve your health.
Remember Keys Medical Centre for all you health concerns across Dandenong North. We are your local medical clinic near Dandenong North. Call 03 8759 3807 or 03 8772 2893 for more information.