Medical Centre Braeside – Local Bulk Billing Doctors
High-Quality Healthcare Across Braeside
The Keys Medical Centre is a dedicated medical clinic in Keysborough that provides high-quality medical care to patients in this suburb and neighbouring suburbs, including Braeside. Our medical centre focuses on providing patients with high-quality medical care that is based on the principles of the best preventative and clinical care for the benefit of each patient's well-being and health.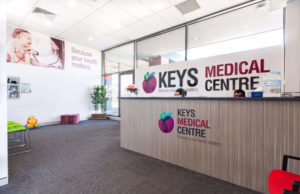 We have highly trained bulk billing doctors. We commit our medical clinic to the highest quality of friendly and professional medical attention and the environment. Our experienced nurses and GP's treat our patients with respect and value the confidentiality of patient information.
We offer Bulk billing in our medical clinic for patients who need Medicare-eligible procedures and have a valid Medicare card. Bulk billed treatment means no out-of-pocket cost for nearly all general consultations.
Our medical clinic meets professional standards and has GPA Plus Accreditation, and we continue striving to reach new heights in general practice standards. Medical students who are planning to become general practitioners also undertake postgraduate studies in our medical clinic. At Keys Medical Centre, we offer a wide range of family medicine and GP services to Braeside residents that include:
Family medicine
Immunization
Mental health
Skin checks
Minor surgical procedures
Preventive health
Health assessments
Allied health – Psychologist & Dietitian
palliative care
Childhood Immunization Programs
Our child immunization programs offer protection to children from birth to 10 years against preventable diseases like:
Tetanus
Hepatitis B
Mumps, Measles, Rubella
Poliomyelitis
Pertussis
Diphtheria
We run our childhood vaccination clinics every Wednesday and Friday. Our vaccination visits are bulk billed, and no appointment is necessary for these two days.
Travel Injections
If you are planning to travel, you can do so carefree. Our travel injections provide peace of mind to travelers since they do not have to worry about getting infected by deadly diseases. Vaccinations are necessary for most destinations, including spots like Vietnam, South America, Bali, and Thailand. They can safeguard you against preventable diseases like:
Flu
Polio
Cholera
Meningitis
Yellow Fever
Rabies
Tetanus
Malaria
Hepatitis B
Some protection from vaccines lasts only one year. You need a booster to keep your protection high even after the previous vaccination. We invest in staff training and development to continue maintaining updated accreditation for our patients to get the very best health attention. So, if you are looking for an exceptional medical care and health service in Braeside, look no further than Keys Medical Centre.